Ulf Buermeyer ist Richter am Landgericht Berlin und derzeit abgeordnet an die Senatsverwaltung für Justiz, Verbraucherschutz und Antidiskriminierung des Landes Berlin, wo er das Funkzellenabfragen-Transparenz-Systems des Landes Berlin (FTS) entwickelt. Daneben ist er Vorsitzender der Gesellschaft für Freiheitsrechte e.V. (GFF) und Fellow des Centre for Internet and Human Rights (CIHR) an der Europa-Universität Viadrina (Frankfurt/Oder).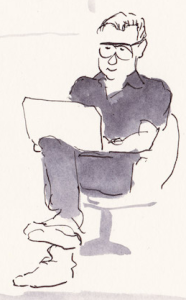 Gemeinsam mit dem Journalisten Philip Banse verantwortet er den meist freitags erscheinenden Politik-Podcast "Lage der Nation". Die Schwerpunkte seiner wissenschaftlichen Arbeit liegen im Verfassungsrecht (insbesondere Telekommunikationsfreiheiten, informationelle Selbstbestimmung und Informationsfreiheit) sowie im Strafrecht (inkl. Strafprozess & Strafvollzug). Von der Johann Wolfgang Goethe Universität Frankfurt/Main wurde er mit einer Arbeit über "Informationelle Selbstbestimmung im Strafvollzug" promoviert. 2013/2014 studierte er im Rahmen eines Sabbaticals im LL.M-Programm der Columbia Law School in New York City. 2017 bis 2019 war er wissenschaftlicher Mitarbeiter des Verfassungsgerichtshofs des Landes Berlin.
Welcome
Ulf Buermeyer was appointed judge at Berlin Superior Court in 2010 and is currently on leave to serve as desk officer at the Berlin State Department of Justice. 2013/2014 he was on leave to obtain a master's degree (LL.M.) at Columbia Law School, New York City. Since 2014 he's also a fellow of the Centre for Internet and Human Rights (CIHR) at Europa-Universität Viadrina (Frankfurt/Oder). Together with journalist Philip Banse he hosts a weekly podcast on politics, "Lage der Nation" (State of the Nation). 2017 to 2019 he served as law clerk at the Constitutional Court of the Federal State of Berlin.
Judge Buermeyer's work as a legal scholar focuses on matters of Constitutional Law (particularly civil liberties, national security law, privacy/data protection and freedom of information) as well as Criminal Law (including Criminal Procedure & Prison Law). He obtained a doctoral degree (Dr. iur.) from Johann Wolfgang Goethe University Frankfurt/Main with a thesis on "Informational Self-Determination in Correctional Institutions".
Bild © Aike Arndt – vielen Dank!